CEO of Haexagon Concepts Juergen Hoebarth will share recipes of a successful ICO at Blockchain & Bitcoin Conference Israel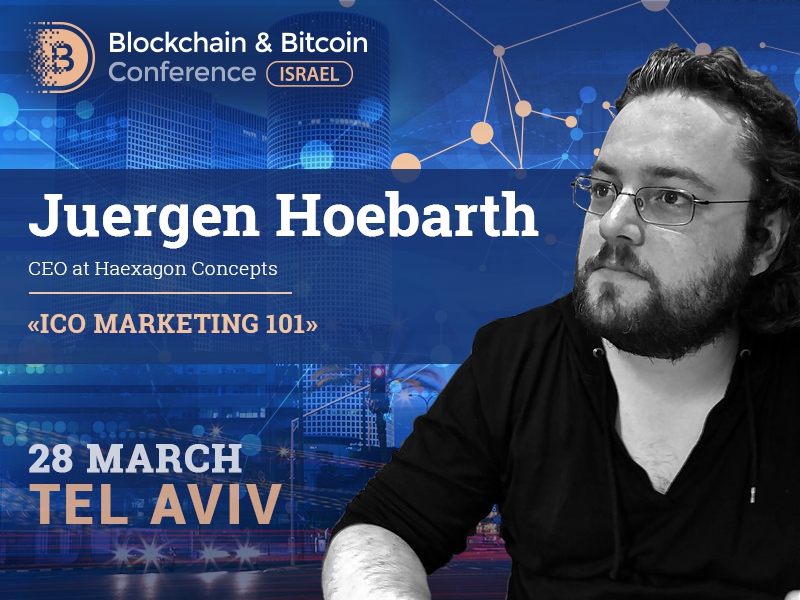 How to elaborate an efficient marketing strategy and run a successful ICO? The answer to this question will be provided by CEO of Haexagon Concepts Juergen Hoebarth at Blockchain & Bitcoin Conference Israel.
Back in summer of 2017, ICO was perceived as a simple and accessible way of raising funds. To launch an initial coin offering, it was sufficient to provide a white paper, have a website to promote the project, and post an announcement on BitcoinTalk. However, the method became inefficient with time.
Nowadays, 200 to 300 projects launch ICOs daily. The competition for the attention of investors among projects has increased manifold. To promote campaigns and attract investors, startups began to turn to such influencers as Floyd Mayweather or Paris Hilton.
In his presentation, Juergen Hoebarth will review which tools and strategies are needed to successfully market an ICO.
The speaker will explain how to tap into the communities, how to generate buzz, and what needs to be done to be visible.
Juergen Hoebarth is an advisor on digital strategies. He also occupies the position of Director Digital Strategy at Piccing, Inc., engaged in the digital marketing and brand management. Hoebarth holds two Master's degrees of the Academy of Visual Arts, Hong Kong Baptist University. He actively follows and supports the cryptocurrency and blockchain movement.
Register to Blockchain & Bitcoin Conference Israel!