IBM and blockchain: Ronen Siman Tov, CTO of IBM's Alpha Zone accelerator, to talk about business solutions by IT giant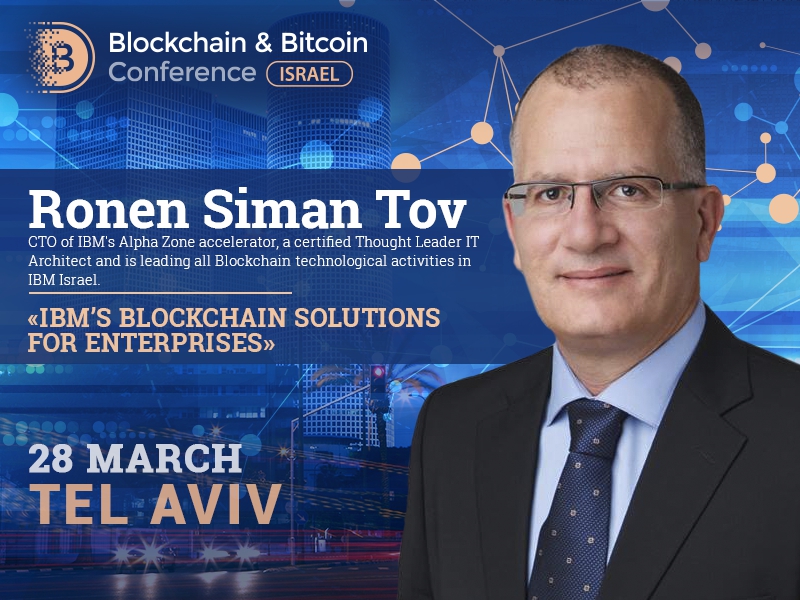 Ronen Siman Tov, CTO of IBM's Alpha Zone accelerator, will speak at Blockchain & Bitcoin Conference Israel.
The IBM Corporation is deeply involved in the development of blockchain-based solutions. Ronen Siman Tov's presentation will be dedicated to blockchain services for enterprises designed by the technological giant.
The speaker will talk about the potential of blockchain solutions as well as the way to improve business processes using them and enhance the efficiency of transactions, reducing expenses of both enterprises and final customers.
Besides, Ronen Siman Tov will introduce IBM's blockchain solutions for the enterprise like the trade-finance consortium led by KBC bank and food-safety consortium led by Walmart.
Ronen Siman Tov is CTO of IBM's Alpha Zone accelerator, a certified Thought Leader IT Architect and is leading all Blockchain technological activities at IBM Israel. He consults Israeli developers, startups and high-tech companies on behalf of IBM.
He is involved in innovations and advanced technologies. Ronen Siman Tov frequently participates in major technological conferences and takes part in hackathons as a mentor and a judge.